Larson Juhl's Stitch Series
NEEDLEss to say we all deserve a bit of a break this year! Hope everyone is taking a step back, slowing things down and focusing on the things that matter. If for you, that involves surrounding yourself with love, art and creativity, let me POINT you towards our feature frames, starting with our favourite specialty frame: LJ's Stitch series. This colourful series was designed with works of needlepoint in mind! (Is this a hobby anyone picked up over the last few months?!) It comes in 12 colours to match or complement these intricate fabric works. Subtle details, like the bare-wood edge and curved face, forefront artistry, and focus the eye on the work of art within!
10% off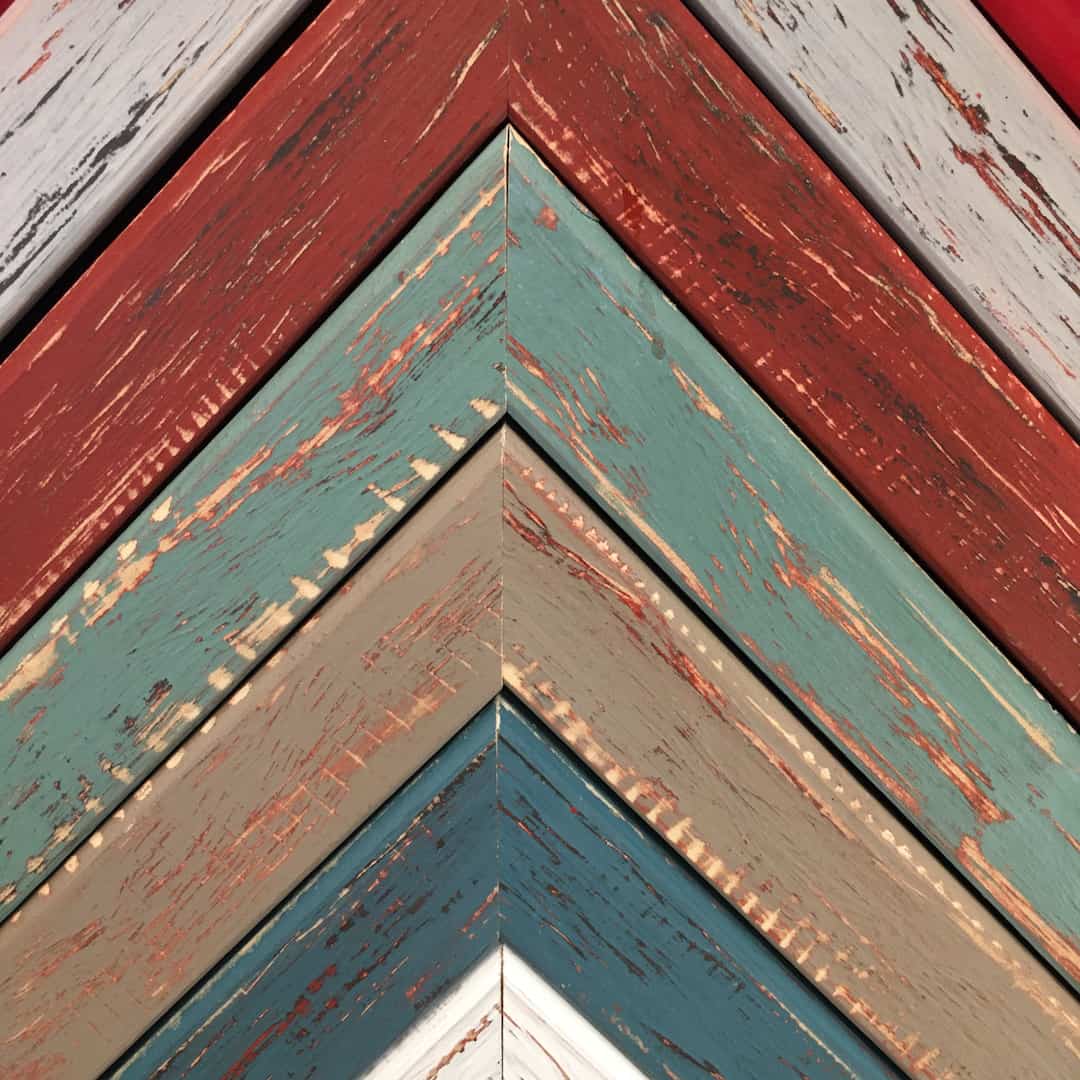 Omega's Côte d'Azur Collection
Ahoy mate! Meet our choice frame for decorating a child's bedroom—Omega's Côte d'Azur series. And yes, I (Emily) can't help but picture a whole SLOOP of nautical scenes enframed by these charming mouldings. (Sorry, this might be a whole year of puns too). Distressing reveals a rich layering of red, slate and bare wood that complements all six surface colours. This depth of colour is balanced by a matte finish. And a chamfered corner adds refinement to this rustic series. While the series was designed with a nautical mindset, it is also well suited to florals, classic children's book illustrations, family photos and alphabet prints! And the neutral tones are great for non-gendered baby rooms! We especially love the aged grey colour (top)!
LJ's 3/4" Cumberland moulding in Natural Cherry
Our favourite natural wood frame is LJ's Cumberland in Natural Cherry. This collection was designed with simple finishes designed to highlight the variation in the wood grain. The Natural Cherry has a beautiful warm medium tone. We love the occasional dark bands that run through it. This moulding has a minimalist look with a ¾" face. But with a 1 ¼" rabbet depth, its suitable for some shadow box displays! A shadow box is a great way to frame objects and groups of mementos. Or to show off a paper-work with a raw edge! It's very popular right now to pair these natural wood tones with warm minimalist prints. This moulding is also well suited to wooded landscapes and wildlife. This frame is the CHERRY on top of a beautiful piece!
15% off
Larson Juhl's Maison Collection
Introducing LJ's Maison series! This is one of my personal favourites! It comes in two sizes and four beautiful neutral tones, all detailed with silver distressing. It has timeless curvature. I particularly love how voluptuous the larger version is. This moulding is the height of sophistication and elegance, yet still feels cozy! It will be at HOME in any space! Pair it with your wedding photos, portraiture, seascapes or florals. And it would look just as nice sitting on a desk as it would on the wall!
Omega's 2 1/2" Lumina moulding in Gold/Bronze
This moulding is the queen of versatility, designed to ilLUMINAte any home! We love the Lumina for its elegance and sophistication! This frame is well suited to traditional, contemporary, transitional, and farmhouse styled homes! …Is cozy-glam a style? The subtle texture reminds us of linen or silk, and the colour shimmers between warm and cool tones. With a larger face width, this frame would really elevate a larger piece in a dining room, or above the mantelpiece. It would also look lovely on a few your favourite wedding photos in the living-room, bedroom, or running an open staircase! And finally, it would make a great pick for an office space or small business place.
15% off
Dress your works in their Sunday best, with our choice metal frame: The Neilson 11 Series. It has a super thin face with subtle curvature and it comes in a stylish range of colours and finishes! We love this frame for photography, abstract prints and watercolours. Want to frame a big piece on a budget? Metal frames are a great, inexpensive option, especially when you still want to add a pop of silver or gold.
Omega's 1 3/4" Calistoga moulding
TGIF! And in this case we mean thank God it's FUN, FUNKY AND FRESH! Omega's Calistoga (1 ¾") frame in rustic white is a weathered barn wood style frame. But with a snakeskin-esque pattern in the natural weathering, it toes the line between rustic and urban. This moulding is particularly well suited to natural subjects, portraiture, and abstracts. It brings some added texture to prints, digital illustrations and photography, and adds extra personality to small and medium sized pieces!
10% off
LJ's Spencer 5/8" Floater
Meet Spencer, our fav floating frame! I discovered Spencer in the winter, when Natalie used it for one of B. Jane Magee's works. I immediately fell in love! Unique works call for unique frames, and this pairing could not have been more perfect! Just as Magee's Beyond Lost River 35 captures the personality of the Canadian landscape in a distinct and enchanting palette, so too does this LJ frame perfectly capture a sense of rustic elegance. Designed for gallery edge canvas, this moulding features a dramatic woodgrain profile and a thin, concave gold-leaf face. This frame is similarly well suited to highlight the subtle textures of more abstracted landscapes!
Introducing Omega's Xavier series! This moulding comes in two sizes and four beautifully raw metallic finishes! It's one of our all-around fav frames. We love it for the depth, richness and texture it adds to pieces. We love using this frame with B&W photography!
Larson Juhl's 1 5/8" Providence moulding
Our favourite gold frame is LJ's 1 5/8″ Providence! This classic moulding will make any painting feel like a masterpiece! It has a burnished gold finish, with deep red undertones. Well suited to prints of well-known works!
15% off
Larson Juhl's Academie moulding in black
AND THE AWARD for most award-worthy frame goes to.....
This year, so many graduations, momentous occasions and grand achievements are passing without due celebration. Let us help honour these achievements with handsome pieces for your walls (she says, while her degrees are hidden away in their sad cardboard tubes!) This 2 1/8" LJ moulding, appropriately named Academie, is the perfect frame for important documents! The classic details and dramatic contours of this moulding give it a formal air. We especially like the red undertones and the speckled gold inner-edge!
Omega's 1 1/8" O2 moulding in Dark Walnut
Framing a piece for someone special? Omega's O2 (1 1/8") frame in dark walnut is the perfect gifting frame. It's a neutral, versatile and timeless moulding that still has a lot of personality. With a modern form, smooth and satiny finish, rich colour and subtle graining, this frame is an essential companion for any art collection. Add weight and impact to smaller pieces; lend a bit softness to large, bold abstracts; complement the natural tones of landscapes; create a homey and organic ancestry wall!
Omega's Carnivale Collection
Another colourful series we just can get enough of is LJ's Carnivale collection. This moulding comes in 9 colours and 2 sizes. It has linear, hand-distressed details, a smooth finish and simple, modern shape. The palette offers a selection of neutrals and vibrant colours that look great in any combination! A great way to bring added colour to your space! And the best part? This collection is very affordable! This is our fav framing-on-a-budget frame.
Verbec's 1/4" black moulding
Who doesn't have a black minimalist frame hanging in their house or office? Black minimalist frames may be a dime-a-dozen, but there's a reason for that! They are classy, modern, bold, yet simple! (Does that make this our fav fav frame?) We love this 1 1/4″ frame by Verbec for its sophisticated details! A frosty matte finish and a very subtle rounded corners sets this one apart. And its wide enough to add a little impact! This frame is perfectly suited to a feature walls, especially where the pieces vary in colour and style! Try mixing up the mat width or colour to add another level of interest to your wall art!
10% off