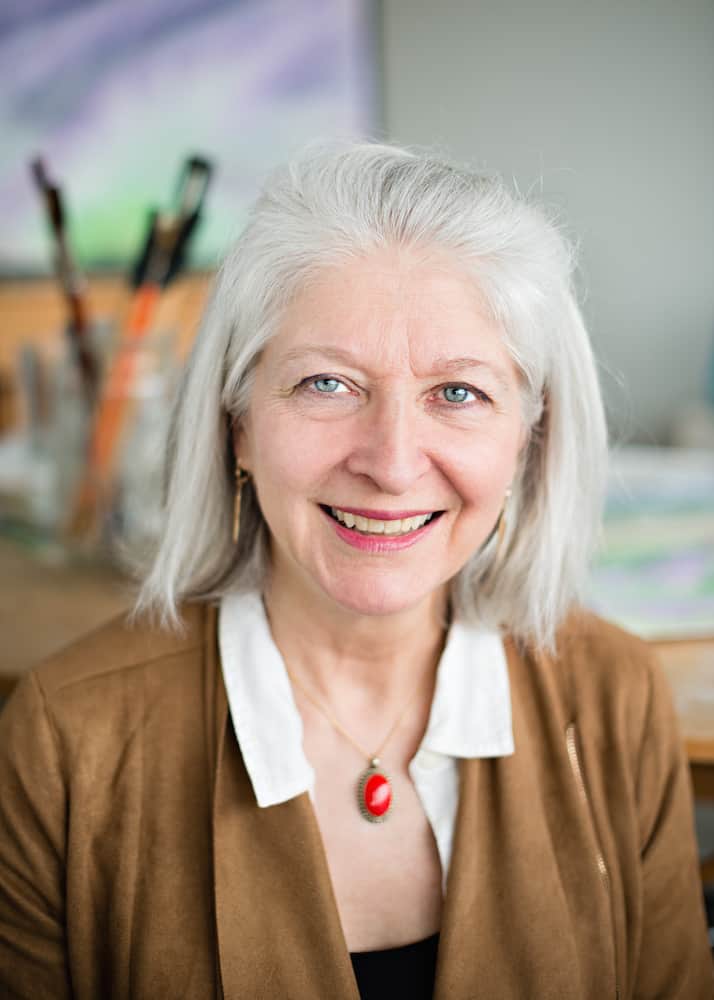 Born in Sturgeon Falls, Ontario, Denise Levesque studied visual arts at Ottawa University. She is a painter and has exhibited since 1977 in Canada and France: The Imbert gallery in Aix-en-Provence, the galleries Jean-Claude Bergeron, Rodrigue Lemay and Eugene Racette in Ottawa, L'Imagier and galerie Montcalm in Gatineau, McGill University, Montreal QC, La Galeruche in Timmins ON, Sudbury's GNO, Toronto's North Pavillion … She taught art at the secondary and primary levels and art education at Ottawa University, also she worked at the education services of the National Gallery of Canada. She ran a gallery inside a secondary for 4 years: Galerie educative Thériault, Timmins.
She participated in many arts committees and was happy to be on the executive committee of Bravo-Est, when the CA and BRAVO created the first Nuit Blanche Ottawa!
For many years the Ontario Arts Council subsidized her.
Presently the artist works full time in her studio.
L'artiste est diplômée en arts visuels de l'Université d'Ottawa, Elle est peintre et elle expose depuis 1977 au Canada et en France: La galerie Imbert à Aix-en-Provence, les galeries Jean-Claude Bergeron, Rodrigue Lemay et Eugène Racette à Ottawa, l'Imagier et la galerie Montcalm de Gatineau, l'université McGill, La Galeruche de Timmins, la Galerie du Nouvel Ontario de Sudbury, Le Pavillon du Nord à Toronto…
Elle a enseigné au niveau primaire, secondaire et universitaire. Elle a géré une galerie en milieu scolaire à Timmins pendant 4 ans. (Pro-Arts)
Elle participe à plusieurs comités et CA, en particulier BRAVO-Est lors du premier lancement de la Nuit blanche Ottawa. Son travail a été appuyé à maintes reprises par le Conseil des Arts de l'Ontario.