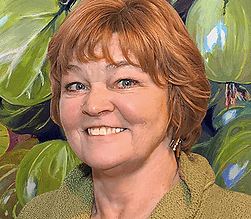 Working in the traditional medium of oil, Virginia takes a macroscopic view, often at a scale larger than life, and strives for a strong tactile quality, while building up layers of paint. Her work suggests a narrative around such subject matter as the handcrafts of tatting, knitting or crocheting, to the tangled foliage, stems and fruit of the growth pattern in nature.
Virginia is a graduate of the 3 year Fine Arts Diploma at the Ottawa School of Art. She refined her oil painting practice by completing two Advanced Studios in oil painting, as well as two Apprenticeships in oil painting with a concentration into colour theory. Virginia has won numerous juror's awards and grants from both the AOE Arts Council and the Ontario Arts Council. She was invited by Artspace613 to create an installation for Ontario2017 Culture Days.
Virginia, a local artist who lives and paints in Blackburn Hamlet, is an elected member of the Society of Canadian Artists.
"I respect perseverance, patience and resilience and am drawn to a subject by its beauty, colour and rhythm. Exploring colouristically the drama in patterns, suggestive of creation, growth and endurance, allows me to see beauty in the ordinary." — Virginia