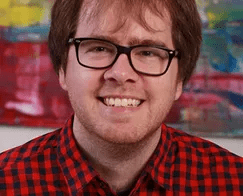 "My current artistic practice explores elements of chance and experimentation in painting. For my 'What A Drag' series, I am interested in experimenting with the effects of colour and the random application of paint on canvas using different objects. For the creative process of each painting, I throw paint onto the canvas.
"Next, I use different tools — like rulers, sticks, pieces of cardboard, and squeegees — to drag the paint around the canvas in multiple directions to create new images, shapes and colours, drawing upon a history of abstract painting.
"This process — where I choose how the paint should be dragged on the canvas, which colours to use, and figuring out when the piece can be considered 'finished' — is, for me, cathartic and challenging . The resulting images, which are abstract in appearance, shift between the haunted and delicate." Kingston-area artist Fraser Radford has worked with galleries and museums in Kingston, Toronto and Brockville, and has apprenticed with Shayne Dark, one of Canada's prominent sculptors. He holds an Honours Bachelor of Arts in Art History, with a minor in Religious Studies, from Queen's University; a Fine Arts diploma from St. Lawrence College, Brockville ON; and a post-graduate certificate in Studio Process Advancement from the Haliburton School of the Arts.His work is held in private collections and has been exhibited in numerous group shows across Ontario and the United States. He has also been published in several magazines across Canada and the U.S. Fraser was born in Brockville ON in 1987.