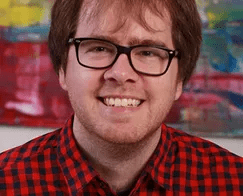 Fraser Radford was born in Brockville, ON in 1987. The Kingston-area artist has worked with galleries and museums in Kingston, Toronto and Brockville, and has apprenticed with Shayne Dark, one of Canada's prominent sculptors. Radford holds an BAH in Art History, with a minor in Religious Studies, from Queen's University; a Fine Arts diploma from St. Lawrence College, Brockville; and a post-graduate certificate in Studio Process Advancement from the Haliburton School of the Arts. His work is held in private collections and has been exhibited in numerous group shows across Ontario and the United States. He has also been published in several magazines across Canada and the U.S.
"The title for my current series of works is Pouring Galaxies. It refers to the method of creating the works, by utilizing a process where I thin out acrylic paint with a mixture of water and a surfactant called Acrylic Flow Release, then pour the paints onto the raw canvas. The method of pouring allows the paint to blend naturally, and without interruption from myself. The resulting canvases appear ethereal in nature, reminiscent of the photographs taken by the Hubble Space Telescope of various nebulae and galaxies.
The paintings in this series are mainly influenced by the Colour Field/Post-Painterly Abstraction artists of the 1960's like Helen Frankenthaler, Friedel Dzubas, Larry Poons, Jules Olitski, Paul Jenkins, Leon Berkowitz, Sam Gilliam, etc. Colour is the main subject of these works, taking into consideration how the colours combine, through the process of osmosis, the liquefied paint getting absorbed into the weave of the raw, unstretched canvas, blending and layering over one another."