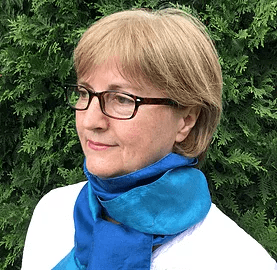 Like most children, Bev loved to draw, paint and make things. Wax crayons, pencil crayons, paper, glue and scissors were her first art supplies. Then she inherited an unopened set of oil paints from her oldest sister. She made several little paintings on canvas board and then she was hooked.
After high school, she went to Algonquin College in Ottawa and studied Graphic Art. She worked as a Graphic Artist for a time and then decided to return to school and study Fine Art. She graduated from The Ontario College of Art with a focus on drawing and painting. She has always loved the tactile experience of handling oil paint, applying it onto canvas, feeling the spring between brush and support, and directing the paint, thin and thick to see an image emerge.
Sometimes she paints on location, but mostly she paints in the studio.
She will often sketch on location and take photographs of her subjects. Then she returns to the quiet of her studio to work out compositions using the preliminary reference material.
Bev has exhibited paintings in solo and group shows in Ontario, Quebec and New Brunswick. Bev belongs to "The Bottom Line" drawing group, which is a weekly figure drawing workshop and currently resides in Ottawa.