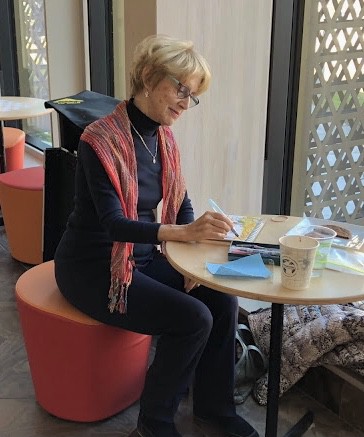 An international portraitist, Wendy Trethewey has painted hundreds of commissions for the military and institutions. Her private clients include adults, children, and pets - particularly dogs.
Trethewey's work is held in private and public collections throughout Canada, USA, Australia and England. Her pieces are represented in the permanent collection of the Canadian War Museum, amongst the other work of living artists featured in the museum's oral history.
Trethewey is a Premier Pastelist, winner of the highest award of the Pastel Society of Canada.
She is also a miniaturist whose work has won Best of Show.
"I stand for all that is beautiful in the world and see myself as a recorder of people, animals, landscapes, and interiors. Lately, I have been concentrating on pet portraits. It is very rewarding to see the joy my portraits bring their owners."
Une portraitiste internationale, Wendy Threthewey peignais des centaines de commissions pour la militaire et autres institutions. Ses clientèles privé inclus les adultes, enfants et animaux de compagnies - particulièrement des chiens. Ses œuvres sont exposés dans des collections publiques et privés tout autour du Canada, les États-Unis, Australie et l'Angleterre.
Ses pièces sont représentées dans la collection permanente du Musée canadienne de la Guerre parmi les autres artistes vivants, présente dans l'histoire orale du musée. Thethewey est une Pasteliste Première, gagnant de la récompense de la plus haute signifiance de la Société Pastel du Canada.
Elle est aussi une miniaturiste qui a gagné Best of Show.