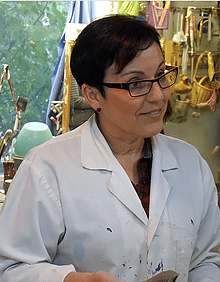 Hilde Lambrechts was born in Belgium (St-Truiden, 1961) and became a Dutch citizen (in 1982) until she made the best decision in her life and obtained Canadian citizenship in 2015. Having a background in science (PhD biology, University of Utrecht, The Netherlands, 1993) art was not on her radar till 1999, when she started carving stone as a hobby. While mainly self-taught, Hilde attended a few stone sculpting workshops with Thea de Waard in the Netherlands. Once settled in Canada, art became a life-saver. She first enrolled in 'Figure Drawing and Painting' with Pamela Cockcroft-Lasserre (2007-2009) and later in 'Ceramic Sculpture' with Jim Thomson (2009-2011) at the Ottawa School of Art. Intrigued by the wonderful possibilities of the human figure, she founded Figureworks.org—a not-for-profit organization promoting visual art of the human form in all media (April 2010). As the President of this organization (2010-2016), she organized 7 juried award shows in Ottawa, which now attract professional artists from across Canada and abroad. Today, she is still functioning as the curator of Figureworks.
It was the late Jim Thomson who "infected" her with the clay bug, for which there is no cure. As a visual artist, Lambrechts has chosen ceramic sculpture, with an emphasis on ceramic installations, as her main discipline; for her, art is a conversation and her artistic expression changes with the topic of that conversation. Lambrechts recent works have strove to direct conversations toward the issues of climate change, deforestation and the refugee crisis.
Since 2012, Lambrechts has worked as a full-time artist in her home studio; she became a finalist of the RBC/CAO emerging artist award in the same year. Her work has been shown in both solo and (juried) group exhibits, including at the New York Art Expo and the Canadian Gallery of Clay and Glass in Waterloo, Ontario. In the last few years, Lambrechts has been an active member of Ottawa Guild of Potters, acting as its secretary, 2016–2018. She was the designer of two large outdoor art installations: 'Populace' (2017) at the Canadian Museum of Nature, in celebration of Canada's 150th birthday; and 'Compass' (2018) for the Royal Canadian Geographical Society. Her work is in private collections in Belgium, The Netherlands, United Kingdom and Canada, as well as in the collection of Global Affairs Canada; 'The Bark Archive' is on permanent display at the Canadian Embassy in Brussels, Belgium.
"Through beautiful visual stimulation I aim to open up minds of others and increase empathy, which is the key to peaceful solutions and tolerance."