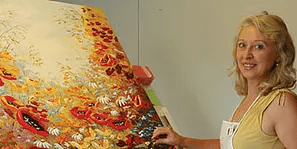 Irena Sherstyuk is a Canadian modern artist who creates dazzling abstract works using her own unique expressive technique. She was born and raised in Ukraine, not far from the Black Sea. Irena took her first formal art classes when she was 10 years old where she learned composition, drawing and painting. From that moment, Irena knew she was meant to paint. However, Irena's painting took a back seat to a teaching career, where she spent an engaging 15 years. Moving to Canada opened a whole new door for Irena, exposing her to new fascinating styles and opportunities.
Irena's signature use of various gel mediums and modeling pastes, with the addition of thick application of paint creates her unique unforgettable texture.
Irena currently lives in Ottawa, Canada and dedicates herself to her passion on a full-time basis. Her works are being shown in galleries, businesses and exhibitions with her commissions being spread across private collections in Canada, United States and Europe.
"True art makes us feel alive, touches the most intimate strings in our hearts and inspires us to feel music in our souls. Every canvas is a combination of vibrant , bold, optimistic and comforting colors that translate my emotions and reflect my personality. I express my feelings through my art and it makes me very happy to hear someone say that my art brings them joy and harmony." — Irena