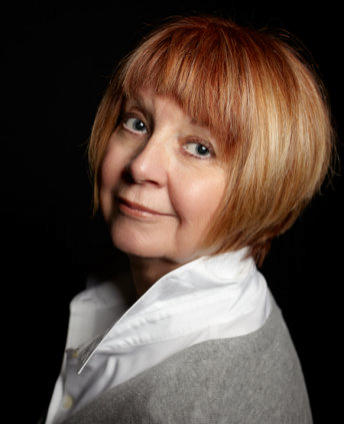 Angela is an Ottawa-based, international, multidisciplinary fine artist and poet.Living in Canada, the UK and the USA, Angela's life has always been one of movement, both geographically and artistically. A passion for sculpting led her from clay to stone and from representational to abstract; from the Maison du Potier in Québec City, to the Ottawa School of Art, to the Sculpture Academy in London, UK and ultimately to a residency in Italy with a master in 2004.
A Canadian abstract artist, she produces enduring, tactile, elegant stone sculptures. Angela senses a deep past in her ancient stones and though both artist and stone have separate memories, her objective is to bring them into dialogue during the sculpting process. During that dialogue when she feels the stone's tangible energy and power, a rare bond is forged. This most compelling component of her art inspires a poem to complement each sculpture. Angela approaches this physically demanding medium with determination, conviction and organization, completing each sculpture with a base designed to complement the work. She encourages the viewer to use their sense of touch when admiring a sculpture to fully comprehend its nuances.
While living in the USA a brief course in warm glass sparked her curiosity. Angela was transfixed by the luminosity, transparency and richly hued colours available thus beginning years of exploratory practice in the art of kiln-fired glass.
In a studio separate from her stone studio, using brightly hued primary colours Angela charts places that have defined her, much as a cartographer does, voicing it through the geography of map-like contemporary glass wall art panels. As in her stones, believing bases are important to a complete artwork, she fashions reflective steel or exotic wood backgrounds.
Moving between artistic mediums, is what Angela terms the ultimate 'act of becoming me'.
She is an elected member of the Sculptors Society of Canada (SSC), the Society of Canadian Artists (SCA), and a member of the International Sculpture Center (ISC) in the USA. She has exhibited with the Society of Women Artists (SWA) and the Royal Society of British Artists (RBA) in London. Angela is listed in the Library and Archives of the National Gallery of Canada since 2003.
Angela's fine art features in collections worldwide.
"I believe that carefully crafted objects have the power to inspire, elevate and they retain the pulse of their maker."